Roof Clearing, Cleaning & Treatment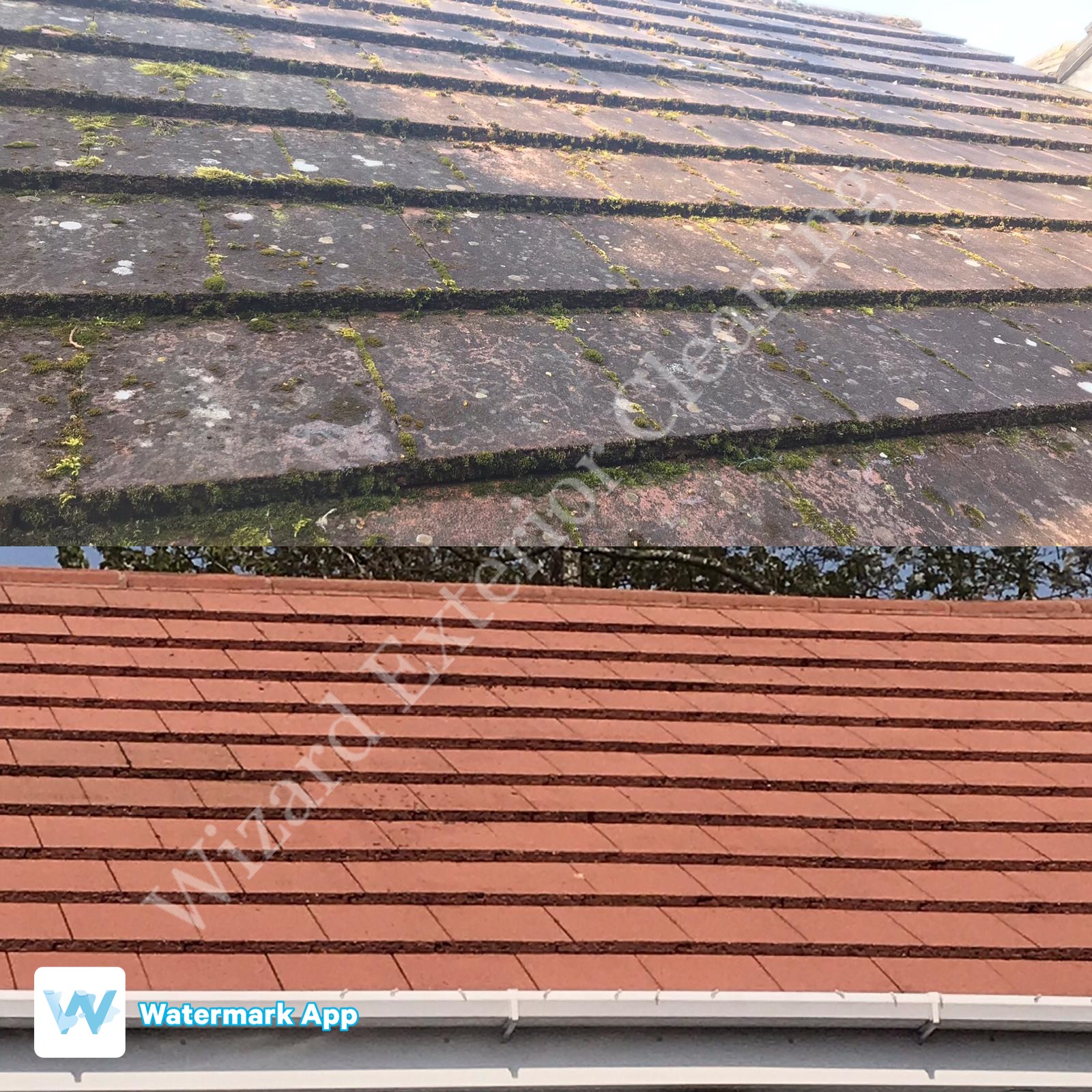 Wizard Exterior Cleaning is able to provide clearing, cleaning and treatment of roof tiles using a range of techniques in Shropshire and the West Midlands.
Regular roof clearing, cleaning and treatment is a very effective and necessary method of cleaning for apartment blocks, houses, bungalows and large buildings in eliminating the cyanobacteria, algae, moss and mould spores preventing serious damage to the tiles surface.
Call us now on 07795198192 for your free no obligation quote
There are many reasons to have your roof cleaned and we believe the following are the most important:
Protect From damage
The longer moss and algae is continued to allow to grow on the tiles of your roof the more damage it will cause in the long run and the moss and algae will continue to breed and grow. The moss and algae will begin to eat away at the tile surface which may allow water ingress from the one area you expect to protect your home from the bad weather. Internal damage is caused when your tiles get neglected from cracks that can be caused by excessive weight from the moss on the roof. Excess moss can also start to push your roof tiles apart. The tiles are then unable to do the job they are supposed to and start to allow water and moisture into your home whcih leads to mould growth.
A Clean Roof Looks Good
A dirty roof is as an ugly roof, a clean roof drastically improves the look of your property from the outside giving it that instant kerb appeal. A clean roof can have positive effects on its valuation and make it more appealing to potential buyers or renters. When you go to the effort of maintaining your driveway, front garden or back garden why not treat your roof to some tender loving care, your roof is afterall what protects you from the elements and you want it to last as long as possible.
Roof Replacement Is Costly
Roof clearing, cleaning and treatments is a lot less expensive than a partial or full roof replacment should moss or algae growth cause damage to your roof tiles and roof structure. The longer you ignore the moss and algae growth the more damage it will cause. We can also apply a treatment to new build properties or replacment roofs to slow down the moss growth.
Call us now on 07795198192 for your free no obligation quote
We are able to carry out roof clearing with a variety of methods from a basic tile scrape using specialised equipment specifically manufactured for your roof tile shape, roof cleaning using steam which uses low pressure steam so as not to damage the tile surface but allows us to remove moss and algae using high heat steam and instantly revives the colour of your roof, biocide treatments which we can apply to new roofs or after a roof clear or clean to protect your roof for longer from moss and algae regrowth.
Wizard Exterior Cleaning can safely clean your property from the safety of the ground or using scaffolding or lift access equipment where required.
Call us now on 07795198192 to book your free test patch and no obligation quote and see how we can bring back the kerb appeal to your property.
We can't wait to here from you.
What happens when we quote?
Wizard Exterior Cleaning always prefer to come out to your property to check your roof Â
We do this so that:
- We can ensure that the surface is in suitable condition for cleaning as no two roofs are alike
- So that we can survey the area to be cleaned for access
- So that we can meet you the customer and discuss your expectations and requirements.
- So that we can discuss what to expect from the clean.
- We also offer annual maintenance packages to ensure that your property continues to look good.
Call us now on 07795198192 to book your free test patch and no obligation quote
"There is a time & a place for moss, but we strongly advise that it should not be allowed to build up on your roof."